Splash pads are a great way to make aqua play accessible for children and families. Even though a splash pad may be accessible to those with differing abilities, this does not inherently make it fully inclusive. Nor does designing bigger and more exciting splash pads make the water play area more inclusive. In fact, bigger and more exciting often adds barriers for some individuals. Designing for inclusion requires extra consideration in the design process and product selection, but typically very little consideration for maintenance or additional budget.
Splash pads should be designed as an aquatic play environment comprised of features that maximize the cognitive and sensory stimulation for children of all physical and mental abilities and is designed to encourage all children to play together and enjoy the same features. Play features that are wheelchair height accessible and adequate turn-around space between elements are important aspects to consider in design. Other considerations should be made for how children with autism or other sensory differences may approach such a space: is there a balance between intense and more gentle water play? How will the various sights and sounds affect those playing in this aqua play space?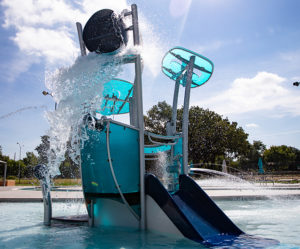 From the design of the splash pad feature, to the methods of accessing the site, be conscious of barriers to access and address them early in the design process. For instance, assure that there are adequate handicapped parking spaces and that the path from parking areas to the splash pad location does not contain obstacles.
All splash pads should be developed utilizing a rule of thumb for one child every 25 square feet of active water spray. Splash pads are an excellent opportunity for park and recreation departments to develop safe water play spaces that encourage people of differing abilities and ages to experience aqua play. Read about the additional benefits and considerations to planning a community splash pad.